Hello friends! SO sorry for the long hiatus from the blog…I've been super busy and traveling a lot the past month and haven't gotten a chance to upload new posts. But I'm baaaaaaaack and ready to go! Here is part 2 of my lovely friend Jennie's sports nutrition posts that she was kind enough to write for me. Hope you enjoy it as much as I did – I'm currently training for a half marathon and I know I will be able to put use some of her information in the weeks leading up to it! Thanks again Jenn!
Nutrient Timing  -how much, how often, and when?
To train to your full potential, your muscles need to be fueled with enough carbohydrate to provide energy for your entire training session, with adequate nutrition provided after each workout for optimum recovery. As I mentioned in the last post, carbohydrate is stored in the form of glycogen and is used by the muscles during exercise. Your body has limited carbohydrate stores and when these stores get too low during exercise, you "hit the wall." Anyone who has ever experienced this knows this feeling mostly consists of overwhelming fatigue and an urge to quit. Here is a 7- step plan developed by Nancy Clark MS, RD, CSSD, one of my favorite sports dietitians who has had the great opportunity to counsel Olympic athletes and is a marathon runner herself:
1) Carbohydrate load daily to assure your muscles are always saturated with glycogen. By carbohydrate loading, I mean taking in 3-5gm carbs per lb body weight to prevent chronic glycogen depletion that can happen with low carbohydrate intake and intense training.
2) Taper your training- do your final hard training 3 weeks before the event and begin to taper at least 2 weeks out. This gives your muscles enough time to completely refuel with carbohydrate. This can be hard for most athletes- I'll speak for myself on that one, I'm as hard headed as it gets when it comes to my training- but research proves that athletes perform better when they tapered for a least 2 weeks (Costill et al. 1985). Maintain your standard carb intake (3-5gm/lb), your body will use the excess calories to double your glycogen stores.
3) Eat enough protein- your body does use a small amount of protein for fuel and your muscles need the amino acids provided by protein to rebuild and repair muscle fibers. 0.6-07gm/lb body weight is sufficient.
4). Choose fiber rich foods to promote regularity and keep everything in your GI tract running smoothly. If you carb load on white breads, pastas and jelly beans you will more than likely become constipated.
5). Plan your meals carefully. You know your own body- it may take some trial and error to figure out how to best fuel your body before an event. For example, if you have a jittery stomach you may need to eat a big lunch the day before a morning marathon and a smaller supper. You can carb load up to 2 days before the event to reap the benefits, this can allow you to eat a little less the day right before if you are worried about a nervous stomach.
6). Drink extra fluids- drink plenty of water and/or juice the day before the event and abstain from alcoholic beverages; they are poor sources of carbohydrate and can also be dehydrating (but who says you can't hit the beer tent afterwards?). Drink 2-3 glasses of water up to 2 hours before the event but refrain from drinking too much. Over hydrating can be just as dangerous as under hydrating.
7) Eat breakfast on event day- carb loading is just part of your fueling plan, eating a good breakfast will prevent hunger during the event and help keep your blood sugar stable.
Eating before exercise
Eating before a workout is important for any exerciser. Just like you put fuel in a car before taking it for a drive, you need to fuel your muscles before engaging in a workout.
Not eating before exercise does you more harm than good. Some people have told me they don't eat before exercise so they can burn fat. It is true that your body will rely on fat as a secondary source of fuel if there is an inadequate amount of carbohydrate available. However, just because you burn through fat as an energy sources doesn't mean that you will actually lose body fat- to do this you must create a calorie deficit. By eating a pre-exercise snack, you are giving your muscles the fuel to go longer and harder, which can create a higher energy deficit than you would have if you didn't eat anything at all.
Pre-exercise fueling guidelines will depend on the type, duration and time of your event. I will go through some generalizations that are true for every exerciser:
*Having a snack within an hour of exercise can help maintain normal blood glucose levels but does not allow enough time to replenish glycogen stores. Eating the recommended (3-5gm/lb body weight) amount of carbs every day will allow for you to perform at your best.
*If you will be exercising for more than 60 minutes and will not have time to consume any food during exercise, be sure to eat a snack 60 minutes beforehand with both carbohydrate and protein (such as a bagel with peanut butter or oatmeal made with milk). This will allow for sustained energy throughout the workout as the protein will slow down the digestion and absorption of the carbohydrate.
*If you are exercising for less than 60 minutes, consume a carbohydrate based food 30-45 minutes before your workout that digests easily and can settle comfortably in the stomach. Examples include an English muffin, granola bars, and crackers.
*Be cautious with foods high in simple sugar such as jelly beans and honey, syrups, and jelly. These foods have been known to cause rebound hypoglycemia in athletes (a spike in blood sugar followed by a sudden drop) which can lead to dizziness and early fatigue.
*Allow adequate time for digestion. Rule of thumb would be 3-4 hours for a large meal, 2-3 hours for a smaller meal, 1-2 hours for a liquid meal or snack, and less than 1 hour for a small snack. These recommendations may be different for certain people based on tolerance. If you are participating in a high-intensity workout, allow for additional digestion. Your muscles will require a stronger demand for blood flow which will have priority over the digestion that may be taking place in your stomach.
Fueling During Exercise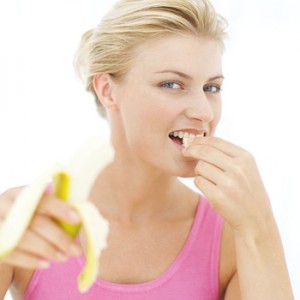 When exercising for bouts longer than 60 minutes, you can greatly improve your stamina by consuming 100-250 calories of carbohydrate per hour during your workout. The best would be to mix up the source of carbohydrate during prolonged exercise to get in a variety (sports drink and a banana, sports gels plus a fruit). Different sugars use different transporters in absorption, so you can absorb more carbohydrate and provide your muscles with more fuel by having a couple different types of snacks on hand (Jentjens et al. 2006).
Recovery Foods and Fluids
Your #1 priority after ending a hard workout should be replenishing your body with fluids and electrolytes so that your body can return to normal water balance. By weighing yourself before and after exercise you will know how much water weight you lost- 1lb lost= 16oz of fluid. When exercising in extreme heat or for long bouts (60 minutes or greater), be sure to replenish electrolytes lost in sweat by opting for a sports drink such as Gatorade or Powerade.
Your second priority should be to replenish the glycogen stores in your muscles. Aim for 0.5 grams of carbohydrate per lb of body weight taken at 30 minute intervals until your next meal. You may have heard that chocolate milk is a great recovery drink- this is true! It has the right amount of protein and carbohydrate along with essential vitamins and minerals to help your muscles recover quickly. Aim for 0.5 grams of carb per lb of body weight taken at 30 minute intervals until your next meal.